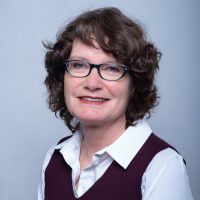 Jefferson's Beaumont Named to Prestigious
3-Year Project Addressing German, American Issues
Erie, Pennsylvania (July 27, 2022) – Jefferson Educational Society Program Director Angela Beaumont has been named one of just eight Americans to take part in a three-year project on German and American issues.
Beaumont, who has held leadership roles at the Jefferson and Brock Institute for nearly a decade, earned a fellowship from the American Institute of Contemporary German Studies in
Washington, D.C. to join a 16-member panel of Americans and Germans studying various issues affecting the two countries.
Part of her work will involve onsite study in two sister cities, Memmingen, Bavaria/Germany, and Glendale, Arizona. In 2021, the cities visited were Dortmund, North Rhine-Westphalia/Germany and, in 2019, the project worked in Chemnitz, Saxony/Germany and
"We are very excited for Angela, who has worked so hard to help the Jefferson grow significantly in the past several years," said Jefferson President Ferki Ferati. "She will also continue to play a vital role directing Jefferson programming."
AICGS, which is affiliated with Johns Hopkins University, is a center for policy research and scholarship dedicated to the most important political, economic, and security issues confronting
Germany and the United States in the global arena. This project aims at three major objectives:
to help communities better understand the divisions that shape their societies and develop
strategies to overcome them; to identify challenges facing increasingly diverse societies in
Germany and the United States; and to strengthen the connection between Germany and America, especially on the local level, and to establish networks between communities.
Beaumont's duties at the Jefferson include directing the Jefferson Civic Leadership Academy. A graduate of the University of Kassel in Germany, she previously worked for a think tank in Washington, D.C., and for DHL in Bonn, Germany, where she held various positions in international marketing and business development.
For comments, please contact:
Vice President of Operations
Jefferson Educational Society