Leadership in a Time of Crisis: Proposing a Preparedness Model for Erie County
The 2020 JCLA Cohort was tasked with examining the topic of "Leadership in a Time of Crisis: Proposing a Preparedness Model for Erie County." They explored this topic during the COVID-19 global pandemic and decided to address it by sharing resiliency information and tactics with businesses through a free and easily accessible speaker series. Please click on LEARN MORE below to read the full report and learn about the background of the COVID-19 Pandemic; its impacts on Pennsylvania and the Erie region; Erie County responses to the COVID-19 Pandemic; the creation of a speaker series, reflection, and potential future opportunities. To watch the videos of "The JCLA Business Speaker Series: Resources for Building Resiliency during Uncertain Times" please click HERE!

Blue Economy in Erie County
The 2019 JCLA cohort explored the Blue Economy and addressed what they learned in this group action project. The goals of this project was to educate residents and visitors of Erie County about the Blue Economy and vast opportunities that exist in the areas of science, infrastructure and economic development, and to create broader awareness through an educational exhibit that showcases the current state of the Blue Economy and key opportunities that exist for Erie County.

Trapped in poverty
In 2018, JCLA participants applied the lessons learned from the program to a group action project focused on Poverty in Erie County, which yielded the creation of a Community Poverty Index. This project identified and addressed structural impediments to elevating the economic status of people living in poverty by examining a selection of resources in low-income, middle-income, and high-income ZIP codes across Erie County.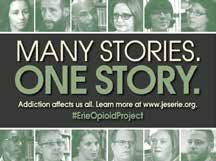 #ErieOpioidProject
In addressing the opioid epidemic, the 2017 JCLA cohort produced the media awareness campaign, Many Stories, One Story, to change the conversation about addiction from one of demonizing stigma to one of encouragement and compassion. The participants interviewed recovering addicts, policy experts, and medical professionals in an effort to shed light on the crisis sweeping the nation.