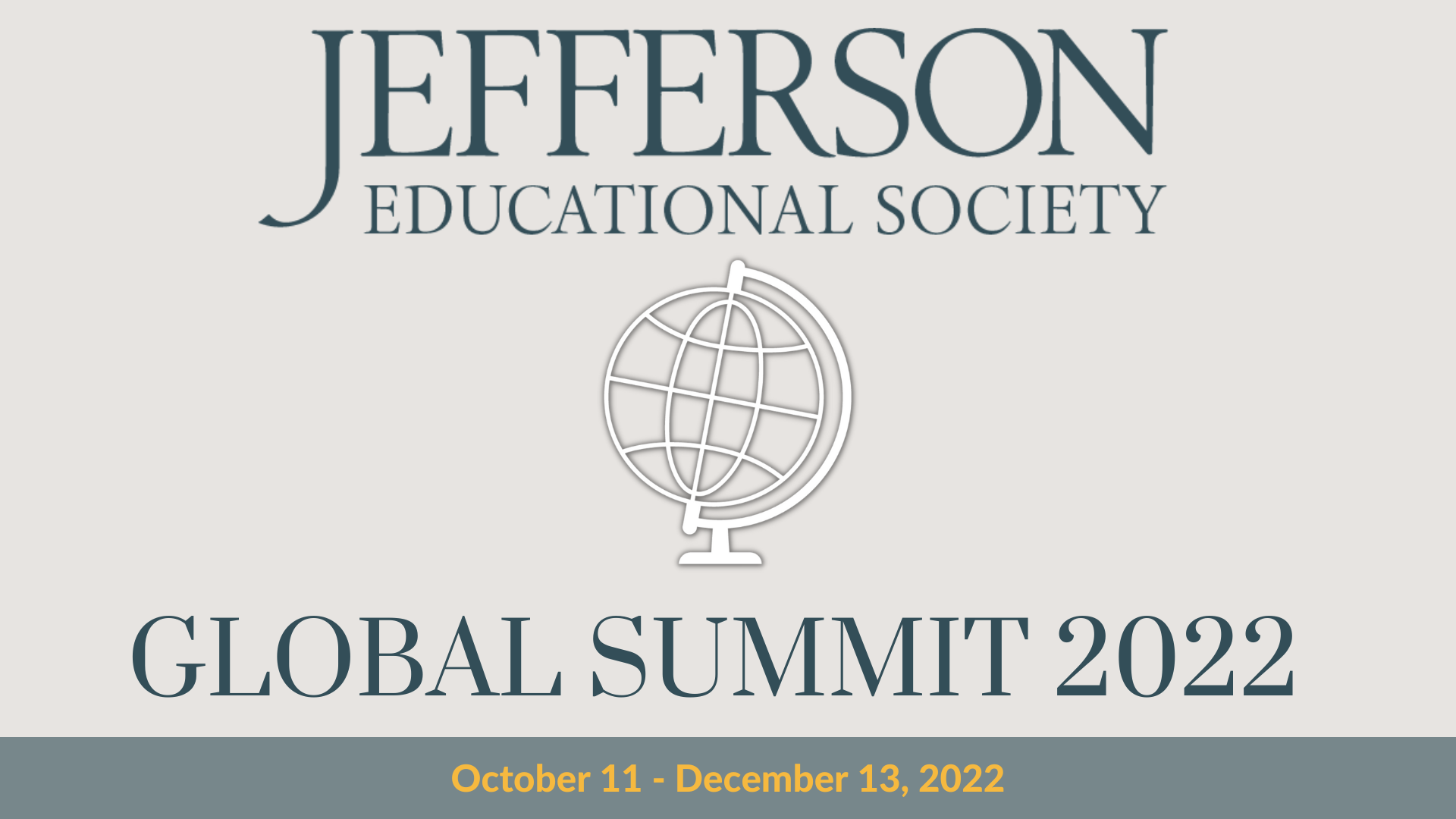 JES GLOBAL SUMMIT 2022 SPEAKER SERIES FEATURES DIVERSE, STAR-STUDDED LINEUP
Erie, Pennsylvania (September 13) – The Jefferson Educational Society announced its Global Summit 2022 speaker lineup in a media conference on Tuesday, Sept. 13 at 10:30 a.m. at the Jefferson, 3207 State Street
"We are thrilled to continue developing the Global Summit into one of the best conferences in the country," said Jefferson President Ferki Ferati, who will speak at the conference. "We are able to do that because of the tremendous support of the Erie community and our many sponsors." University of Kentucky basketball coach, John Calipari and 60 Minutes and Sports Illustrated journalist, L. Jon Wertheim kick off our Global Summit at the Catherdral Prep auditorium discussing "The Future of Collegiate Sports."
Global Summit 2022 will feature 18 speakers at 14 events from October 11 through December 13. Following Calipari and Wetheim, political strategist, Karl Rove (October 23) will share his observations about today's fractious political scene; digital expert Elizabeth Strickler (October 25); Brookings Institution Senior Fellow Rashawn Ray (October 26); immigration specialist Anahita Panahi (October 27); regular NPR panelist, Tom Bodett discusses the future of trade schools (November 2) a panel with community schools expert José Muñoz (November 3); foreign policy expert Fiona Hill (November 4); conservative writer and author, Jay Cost (November 7); former Michigan Board of Education President, John C. Austin (November 9); acclaimed authors and writers, James and Deborah Fallows (November 10); one of JES' founding board members, Rev. Charles Brock (November 11) will recieve the Thomas B. Hagen Dignitas Award, which is the Jefferson's highest honor; CBS News Chief Political Analyst John Dickerson (December 11); and Bloomberg Opinion Columnist Al Hunt and American Broadcast Journalist Judy Woodruff (December 12). Finishing the Global Summit will be catrographer and storyteller, Allen Carroll (December 13). In addition, Global Summit Chairman, Steve Scully will appear at several events.
The Global Summit is hosted each year by the Jefferson in cooperation with a number of major sponsors, including Erie Insurance, Lake Erie College of Osteopathic Medicine, and Gannon University. Tickets for all events are on sale now through the Jefferson's website, www.JESerie.org, or by calling 814.459.8000. Admission starts at $25 for all events, and, as in previous years, all students will be admitted free with pre-registration through the JES' website. Use coupon code eriecountystudent and bring your student ID with you to the events.
A LOOK AT THE LINEUP:
Insights on Today's Fractious Politics
Karl Rove
Sunday, October 23, 2022 7:30 p.m.
Gannon University's Yehl Room
Waldron Campus Center
124 West 7th Street
Erie, Pennsylvania
Karl Rove, political strategist, columnist, policy thinker, and teacher kicks off the Jefferson Global Summit 2022 speaker series with observations about today's fractious national political scene. Rove, who spoke to a sold-out crowd in Erie at Global Summit VI in 2012, served as senior adviser to President George W. Bush from 2000 to 2007 and deputy chief of staff from 2004 to 2007. In his time in the White House, he directed the Offices of Strategic Initiatives, Political Affairs, Public Liaison, and Intergovernmental Affairs. Rove was also deputy chief of staff for Policy, playing a key role in shaping policy in the Bush years. Dubbed "the Architect" by President George W. Bush himself in his 2004 acceptance speech, Rove formerly was president of Karl Rove & Company, an Austin-based consulting firm for Republican candidates, nonpartisan causes, and nonprofit groups. His clients included more than 75 Republican U.S. Senate, Congressional, and gubernatorial candidates in 24 states, as well as the Moderate Party of Sweden. In years since, Rove, author of New York Times Bestseller Courage and Consequence: My Life as a Conservative in the Fight, has become a Fox News contributor, and weekly op-ed columnist for the Wall Street Journal. He has written for various publications, including The Daily Beast, Financial Times, Forbes, FoxNews.com, HumanEvents.com, Newsweek, The Times, Washington Post, and The Weekly Standard. Rove has taught graduate students in Modern American Political Campaigns at UT Austin's Lyndon B. Johnson School of Public Affairs, and undergraduates in a joint appointment from the Journalism and Government departments at the university. A Colorado native, he attended the University of Utah, the University of Maryland-College Park, George Mason University, and the University of Texas at Austin.
------------
Future of the Virtual World: Strategies for Business, Storytelling, Culture, Cryptocurrency
Elizabeth Strickler
Tuesday, October 25, 2022 7:30 p.m.
Jefferson Educational Society
3207 State St.
Erie, Pennsylvania
Elizabeth Strickler, an expert in the metaverse – a virtual universe where users have access to digital avatars that let them "live" in that digital world – is the founding director of the Creative Industries Blockchain Lab and Director of Media Entrepreneurship at Georgia State University. Strickler teaches undergraduate and graduate students at Georgia State University, where she holds academic positions in the Business School and the College of Arts and Sciences. Her research has focused on XR (extended reality) innovations in education. Strickler is building Web3, blockchain, and NFT strategies that offer potential for future business, storytelling, and strengthening the cultural economy. In 2021, she gave a TEDx talk on the Metaverse space in which she quipped, "You'll be able to do everything in the real world in the virtual world, and more." In her appearance at the Jefferson Global Summit 2022, "The Future of Our Digital World: From NFTs to the Metaverse and What Lies Between and Beyond" Strickler brings an inside perspective on media innovation. Strickler holds a B.A. in Philosophy from Boston College and an MFA in Digital Film and Fine Arts, as well as a B.S. in Computer Science, from Georgia State University.
------------
The Future of Race in America
Rashawn Ray
Wednesday, October 26, 2022 7:30 p.m.
Gannon University's Yehl Room
Waldron Campus Center
124 West 7th Street
Erie, Pennsylvania
Rashawn Ray, a veteran of the Jefferson's Digital Summit in May 2021, is a senior fellow at The Brookings Institution. He is also a professor of Sociology and executive director of the Lab for Applied Social Science Research (LASSR) at the University of Maryland, College Park. Dr. Ray is also the co-editor of Contexts Magazine: Sociology for the Public. Ray's research has centered on mechanisms that manufacture and maintain racial and social inequality, focusing on police-civilian relations and men's treatment of women. He speaks to ways that inequality can be dampened through activism and racially uplifting social policy. A pioneering academic, Ray's articles have appeared in the American Journal of Sociology, Science Advances, Social Science Research, Ethnic and Racial Studies, Du Bois Review, and the Annual Review of Public Health. Books published by Dr. Ray include How Families Matter: Simply Complicated Intersections of Race, Gender, and Work and Race and Ethnic Relations in the 21st Century: History, Theory, Institutions, and Policy. Ray has also written for The New York Times, Washington Post, The Guardian, and NBC News, and has appeared on CNN, MSNBC, C-SPAN, and Fox News. Ray, called a "policy star" by the Washington Post, brings immense expertise to his Summit talk titled "The Future of Race in America." Dr. Ray earned a B.A. in Sociology at the University of Memphis and went on to receive an M.A. and Ph.D. in Sociology from Indiana University.
------------
The Future of Immigration in America
Anahita Panahi
Thursday, October 27, 2022 7:30 p.m.
Gannon University's Yehl Room
Waldron Campus Center
124 West 7th Street
Erie, Pennsylvania
Anahita Panahi will speak on "The Future of Immigration in America," leaning on her own life experiences and advocacy to make the case for new Americans going forward. Panahi is the California Refugee Organizer for We Are All America, a collective effort between the Coalition for Humane Immigrant Rights, International Rescue Committee LA, and the Council on American-Islamic Relations. Serving as a safeguard for human rights, Panahi has been inspired from her direct experience as an immigrant. Being the product of refugees, she is privy to the unique problems new Americans face, and important qualities they bring to their adopted countries. After studying at San Diego State University, her advocacy work has led her to Turkey, Iran, and Spain. Eventually, she landed in her current role at We Are All America, where she builds grassroots support, convenes various stakeholders, embraces leadership, and fosters welcoming practices for refugees' rights and needs in California. An impassioned organizer and activist with lived experience, she is also the co-chairwoman of the national Opportunity for All campaign and chairwoman of the Advocacy Committee at the Refugee Forum of Los Angeles (RFLA). In her time studying in Barcelona, she published the project, Social Activism in Authoritarian Regimes: The Middle Eastern Case. Panahi, who speaks English, Persian, and Spanish, received her bachelor's degree in International Security and Conflict Resolution at San Diego State University and an M.A. in Political Science at the Autonomous University of Barcelona.
------------
The Future of Trade Schools
Tom Bodett
Wednesday, November 2, 2022 7:30 p.m.
Jefferson Educational Society
3207 State St.
Erie, Pennsylvania
Tom Bodett, author, humorist, and longtime voice of Motel 6, joins the talented lineup of the JES Global Summit 2022. Famous for his sign-off, "We'll leave the light on for you," Bodett has a storied career in public broadcasting. In his lecture, "Tne Future of Trade Schools," Bodett reflects on his experience with Hatchspace, a community woodworking school in Brattleboro, VT. He discusses how other mid-size cities like Erie can successfully adpot trade schools. The mission of the Hatch is to promote the value and practice of craft by providing the instruction, tools, and space to support a "community of makers."
--------
Community Schools: A Model Locally, a Model Nationally
José Muñoz
Thursday, November 3, 2022 7:30 p.m.
Jefferson Educational Society
3207 State Street
Erie, Pennsylvania
In 2017, José Muñoz joined the Institute for Educational Leadership (IEL), where he is director of the Coalition for Community Schools initiative. Previously, Muñoz was the executive director at the ABC Community School Partnership between the University of New Mexico, Albuquerque Public Schools, the City of Albuquerque, and the Hispano Chamber of Commerce. At ABC, Muñoz expanded the strategy for community schools, adding 22 new schools to the program in just five years, obtaining upwards of $3 million in funding through policy advocacy and working on behalf of community schools with state and local governments, school districts, teachers' unions, and local businesses. Muñoz, for his efforts, won the 2014 Community Schools Initiative Leadership Award. He has also dedicated his time to the Boys & Girls Club, where he developed extracurricular activities, gang prevention, intervention, and re-entry programs. Muñoz and his family dedicate their spare time to serving their community and church. He brings more than 25 years of cross-sector partnership experience for youth, family, and community development across the United States to his talk at the Jefferson titled "Community Schools: A Model Locally, a Model Nationally."
-------
An Evening with Fiona Hill
Friday, November 4, 2022 7:30 p.m.
Gannon University's Yehl Room
Waldron Campus Center
124 West 7th Street
Erie, Pennsylvania
A former adviser to the President and a US-Russia relations expert, Dr. Fiona Hill is poised to offer timely insight in her first appearance at the Jefferson Global Summit. Hill has served in three previous presidential administrations. She was an intelligence analyst of Russia and Eurasia under Presidents George W. Bush and Barack Obama, then became deputy assistant to President Donald Trump, as well as a senior director for European and Russian affairs on the National Security Council. In tune with her academic roots, Hill is a senior fellow in the Center on the United States and Europe in the Foreign Policy program at The Brookings Institution. An acclaimed author, Dr. Hill wrote There is Nothing for You Here: Finding Opportunity in the 21st Century and she co-authored Mr. Putin: Operative in the Kremlin. Hill became a household name when she testified in the first impeachment trial of former President Trump. In an interview with The New York Times, she described the events of January 6, 2021 as "Trump pulling a Putin." With a storied career in European and Russian foreign policy, Dr. Hill will bring decades of governmental and academic work to her talk. Dr. Hill received B.A. and M.A. degrees from the University of St. Andrews, where she studied history and Russian. At Harvard University, she went on to earn a second master's degree and a doctoral degree in Russian history.
------------
James Madison: America's First Politician
Jay Cost
Monday, November 7, 2022 7:30 p.m.
Jefferson Educational Society
3207 State Street
Erie, Pennsylvania
Jay Cost, who appeared at the Jefferson Global Summit in 2017, is the Gerald R. Ford nonresident senior fellow at the American Enterprise Institute (AEI), where he focuses on elections, politics, and public opinion. He is also a columnist for National Review and the Pittsburgh Post-Gazette. Before joining AEI, Dr. Cost was an election analyst for RealClearPolitics and a lecturer at Robert Morris University and the University of Chicago, where he taught a graduate seminar. He is most interested in civic republicanism in the United States, drawing on the political theory of fourth American President James Madison, corruption in politics, political parties, civic institutions, and the power of Congress. Cost, who also writes for The Weekly Standard, will bring his ability to place contemporary moments in historical context to his talk at the Summit, "James Madison: America's First Politician." Most notable in his writings are the books, The Price of Greatness: James Madison, Alexander Hamilton, and the Creation of American Oligarch (Basic Books, June 2018); A Republic No More: Big Government and the Rise of Political Corruption (Encounter Books, 2015); and Spoiled Rotten: How the Politics of Patronage Corrupted the Once Noble Democratic Party and Now Threatens the American Republic (Broadside Books, 2012). Articles written by Cost have been published in National Affairs, National Review, The Wall Street Journal, among others. He is also the co-host of the Ricochet podcast: "Constitutionally Speaking." Dr. Cost earned a Ph.D. and an M.A. in political science from the University of Chicago and a B.A. in government and history from the University of Virginia.
------------
Rejuvenating Industrial Heartlands: Key to Heal Polarized Politics and Strengthening Democracy
John C. Austin
Wednesday, November 9, 2022 7:30 p.m.
Gannon University's Yehl Room
Waldron Campus Center
124 West 7th Street
Erie, Pennsylvania
John Austin is making his first appearance at the Global Summit discussing "Transforming the Heartland and the Rust Belt, and the Power of Ally-shoring at Home and Abroad." In a series of publications on The Avenue since the 2016 presidential election, he has underscored the importance of understanding the economy and politics of midwestern swing states. Austin is the former president of the Michigan State Board of Education. He directs the Michigan Economic Center, a center for ideas and networking to advance Michigan's economic transformation. Austin also serves as a nonresident senior fellow at Brookings Metro, the Chicago Council on Global Affairs, and the Upjohn Institute. Additionally, he lectures on economic issues at the University of Michigan. In 2020, the Chicago Council on Global Affairs released Austin's report, "A Global Midwest: The Path to New Prosperity," which provides an updated analysis of the Great Lakes-Midwest economy. At the Michigan Economic Center, Austin has spurred work to transform Michigan's economy and to help position it to be a leader in the coming "Green and Blue" sustainable economy, referring to land and lake. In 2006, Austin created and directed the "Great Lakes Economic Initiative" for Brookings, where he authored reports that helped shape the region's economic development agenda leading to federal support for Great Lakes clean-up and restoration and touting Great Lakes water resources as an economic asset. Austin received his master's degree in Public Administration from Harvard University's Kennedy School of Government, and a bachelor's degree from Swarthmore College in Economics & Political Science.
------------
An Evening with James and Deborah Fallows
Thursday, November 10 7:30 p.m.
Gannon University's Yehl Room
Waldron Campus Center
124 West 7th Street
Erie, Pennsylvania
James and Deborah Fallows, authors of the national bestseller "Our Towns" and national correspondents for The Atlantic, may be the Jefferson's closest big-name friends. Frequent presenters and longtime supporters of the Jefferson, the Fallows were named honorary Erie citizens by Mayor Joe Schember in 2018 as they were presented the Thomas B. Hagen Dignitas Award at Global Summit X. Their national coverage of news, culture, and trends included Erie as part of the "Our Towns" book that put a spotlight on America's smaller cities, their struggles, and proactive efforts to reinvent themselves. In addition to a storied career as a journalist, essayist, book author, commentator, and analyst for NPR's "Weekend All Things Considered," James Fallows was the chief speechwriter for President Jimmy Carter for two years. Deborah Fallows, James' wife and partner, is a Harvard graduate and later earned a Ph.D. in Linguistics. She researches and writes on many subjects, though primarily on education, and her work has appeared in The Atlantic, the former Atlantic Monthly, National Geographic, and Newsweek. Together their work on "Our Towns: A 100,000-Mile Journey into the Heart of America" has been transferred to a documentary film by Academy Award-nominated directors and producers Steven Ascher and Jeanne Jordan.
------------
John Milton, Abigail Adams, & Thomas Jefferson: Revolution Yesterday and Tyranny Today?
Rev. Charles Brock, M.Litt.
Friday, November 11, 2022 7:30 p.m.
Jefferson Educational Society
3207 State Street
Erie, Pennsylvania
Among the highlights of the Jefferson's Global Summit 2022 is a special presentation by the Rev. Charles Brock, founding board member of the Jefferson Educational Society and longtime Secretary of the Jefferson Board of Trustees. Rev. Brock will discuss "John Milton, Abigail Adams, & Thomas Jefferson: Revolution Yesterday and Tyranny Today?" – a lecture he first delivered at Oxford University earlier this year. Rev. Brock, born in Erie in 1935, dedicated 35 years as an instructor, tutor, and chaplain at Oxford, where he founded the Religion & Democracy Program. At Penn State Behrend in Erie, he has taught in the departments of political science and religion, acting as senior research associate in Religious Studies and as director of the Institute on the American Dream. He is also the founder and director of the Brock Institute at the Jefferson and is a frequent writer and presenter. Rev. Brock is this year's recipient of the Thomas B. Hagen Dignitas Award, the Jefferson's highest honor. Brock is not only an educator but also acting minister of the First Unitarian Universalist Church of Girard. In addition to his published devotional matters and academic articles, Rev. Brock wrote The Lord's Supper (1983), Sacraments (1989), Sightings of Hope (1994), and Mosaics of the American Dream (1994). Coming in 2023 is a wonderful Rev. Brock project that has been 20 years in the making, Holy Warrior Presidents. A veteran of the U.S. Army, Rev. Brock obtained a Bachelor of Science degree from Carnegie Mellon, a Master of Divinity from Harvard University, and a Master of Letters from Oxford University.
------------
Future of the American Presidency

John Dickerson
Sunday, December 11, 2022 7:30 p.m.
Gannon University's Yehl Room
Waldron Campus Center
124 West 7th Street
Erie, Pennsylvania
John Dickerson, chief political analyst for CBS News and senior national correspondent, will discuss "Future of the American Presidency" as he focuses on revelations from his third book and New York Times Best-Seller, The Hardest Job in the World: The American Presidency. Beginning his career at Time magazine, Dickerson covered economics, Congress, and the eventual focus of his work, the presidency. From 2005 to 2015, he was chief political correspondent for Slate magazine and has since covered every presidential campaign. In 2016, Dickerson moderated the two presidential debates hosted by CBS between former Secretary of State, U.S. Senator, and First Lady Hillary Clinton and then-businessman Donald J. Trump. Famous for his style, Dickerson's poignant and incisive questions were called "Dickersonians" by The Washington Post. Dickerson, who previously co-anchored CBS' "This Morning" and was chief Washington correspondent of CBS from 2015 to 2018, is now a regular contributor on CBS "Sunday Morning." He is also a writer for The Atlantic, host of the Whistlestop podcast, and co-host of Slate's "Political Gabfest" podcast. Dickerson's mother, Nancy Dickerson, was CBS News' first female correspondent, about which he wrote the book, On Her Trail. Dickerson is also the author of The New York Times Best-Seller Whistlestop: My Favorite Stories from Presidential Campaign History. Dickerson attended the University of Virginia, where he attained a bachelor's degree in English with distinction and a specialty in American Studies.
------------
An Evening with Al Hunt and Judy Woodruff
Monday, December 12, 2022 7:30 p.m.
Gannon University's Yehl Room
Waldron Campus Center
124 West 7th Street
Erie, Pennsylvania
Nationally known and respected media personalities and spouses Al Hunt and Judy Woodruff will team up to comment on American politics and culture in their first Global Summit appearance. Hunt, a veteran American journalist, is a key contributor to the editorial arm of Bloomberg covering policy and politics in Washington, D.C. Previously, he was the executive editor of Bloomberg News and host of "Political Capital with Al Hunt" on Bloomberg Television. Hunt worked for four decades at the Wall Street Journal, where he was a reporter, bureau chief, and executive Washington editor. He also makes use of a trained political eye in his podcast, "Politics War Room," with James Carvelle. Judy Woodruff is an American broadcast journalist who has worked in network, cable, and public television news since 1976. She is the anchor and managing editor of PBS NewsHour. Woodruff has covered every presidential election and convention since 1976. She has interviewed several heads of state and moderated U.S. presidential debates. Woodruff wrote the 1982 book, This Is Judy Woodruff at the White House, in which she describes her experiences as a journalist. Woodruff has always been a staunch advocate for women as part of a group of journalists that founded the International Women's Media Foundation. In "An Evening with Al Hunt and Judy Woodruff," the pair will reflect on lessons learned from decades of covering politics and the challenges of the present moment. They first met during a softball game between journalists and staffers for then-President Jimmy Carter. Hunt received a B.A. in Political Science from Wake Forest University in 1965. Woodruff was conferred a B.A. in Political Science from Duke University in 1968. For more information, please contact: Jacob Bartko Vice President of Operations Jefferson Educational Society 814.459.8000 Bartko@JESErie.org The Jefferson Educational Society of Erie is a nonprofit institution founded to promote civic enlightenment and community progress for the Erie region through study, research, and discussion.
------
Making Maps, Telling Stories, Opening Minds
Allen Carroll
Tuesday, December 13, 2022 7:30 p.m.
Jefferson Educational Society
3207 State Street
Erie, Pennsylvania
Respected geographer, cartographer, and storyteller Allen Carroll is the featured speaker in Global Summit 2022's finale. Caroll heads the story maps team for Esri, a global leader in geographic information system (GIS) software, location intelligence, and mapping. His talk speaks of his decades of experience. Carroll's team has developed open-source web apps blending multimedia content and interactive mapping to tell stories about the world. Creating a new medium for storytellers, their software has brought about the telling of more than 100,000 stories from people around the world. Addressing the essence of his Story Maps project, Carroll said, "I felt all along that story maps shouldn't just be for professionals; they should be for everyone and anyone who has a story to tell that has to do with place – and what story doesn't have to do with place?