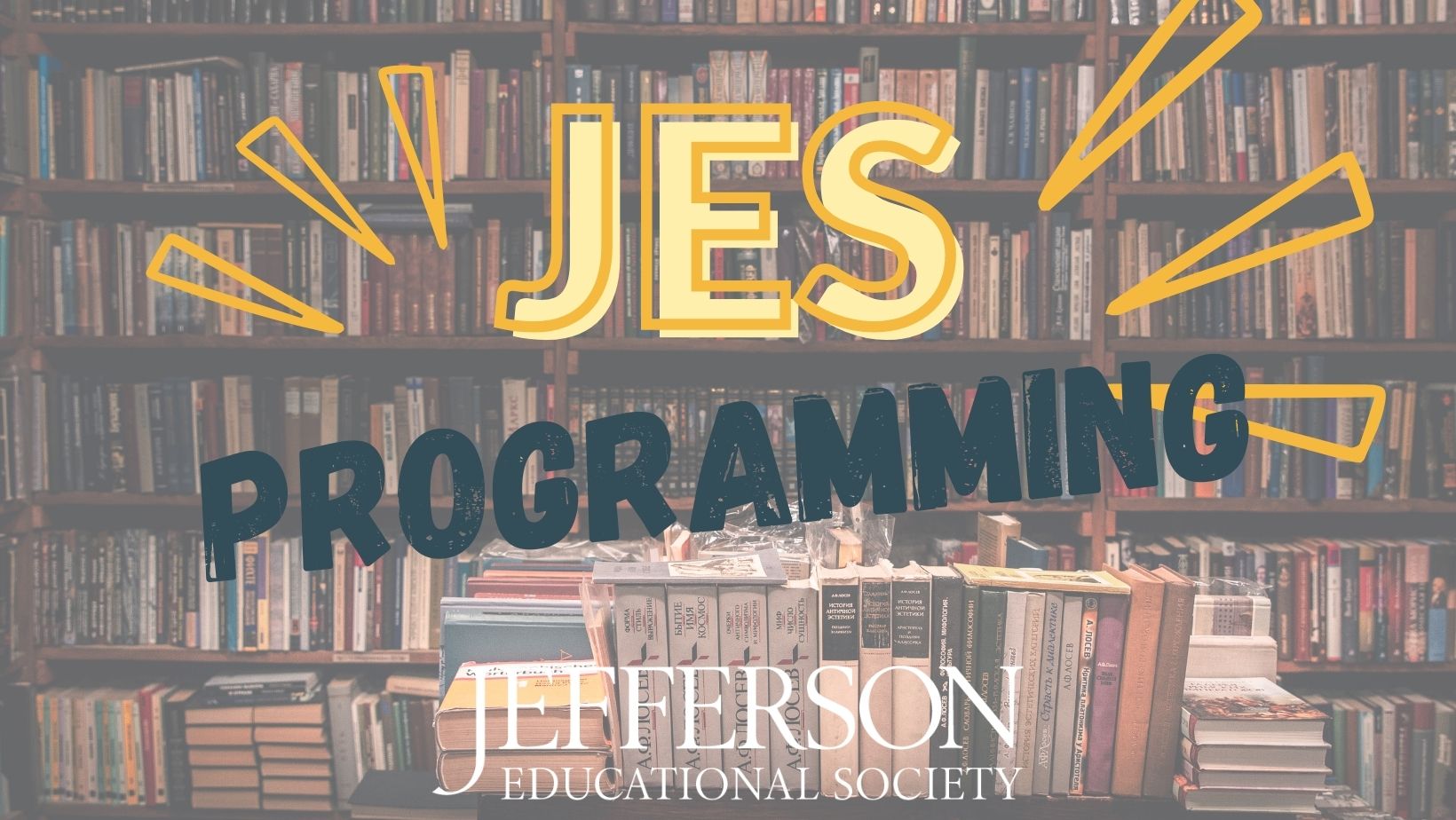 Winter 2022 JES Programming
This winter, the JES will have many new programs to choose from. All of the following programs will be held at the Jefferson Educational Society at 3207 State Street in Erie, PA. Lectures are $10/person and $15 with a guest, lunch n' learn programs are $10/person, distinguished visiting speaker lectures are $15/person and $25 with a guest, and we also have a number of free lectures here at the JES this winter. All JES programming is free to all Erie County students with advanced registration and proof of enrollment at event check-in.
Click the links below to read the program descriptions, times/dates, and speaker bios. Covid-19 policies will be in effect throughout programming, please review the JES Covid-19 policy here. Patrons will need to show their vaccination cards or proof of a negative test. While Erie County remains on alert, masks will be required. Advanced registration is required for all JES events. Tickets will not be sold at or during events. Payments must be made at registration. Visa, MasterCard, AMEX, and Discover accepted. Cash payments are no longer accepted by the Jefferson.
History of Presque Isle: Creating a State Park
AN UPDATE ON THE EDDC'S $100 MILLION REVITALIZATION OF DOWNTOWN
AMERICAN HOLIDAYS SERIES: A MONTH TO CELEBRATE BLACK HISTORY, VALENTINE'S DAY, AND MORE
GREAT BOOKS DISCUSSION COURSE: "COUNTERPARTS"
ERIE COUNTY COMMUNITY COLLEGE: OUR COMMUNITY, YOUR COLLEGE!
CRITICAL RACE THEORY IS NOT THE ISSUE: CLAIMS, FEARS, AND HISTORY
EXPLORING JUSTICE AND INJUSTICE IN AMERICA: EXAMINING LOCAL AND NATIONAL POLICIES AND LAWS TODAY
ERIE WOMEN'S POLITICAL STRENGTH: GROWTH AND INFLUENCE BY THREE MAJOR MOVEMENTS
AFGHANISTAN UNDER THE TALIBAN 2.0: WHAT DOES THE FUTURE HOLD?
ERIE CENTER FOR ARTS AND TECHNOLOGY: WAYNE SCHOOL REIMAGINED
UKRAINE AND RUSSIA: TROUBLING SIGNS, FRUSTRATIONS, AND HISTORY OF A CONFLICT
TACKLING A TOUGH TOPIC: ADVANCED MEDICAL PLANNING
THE FUTURE OF WORK IN ERIE COUNTY
IMMIGRATION: HISTORY, CHALLENGES, AND OPPORTUNITY IN AMERICA, PENNSYLVANIA, AND ERIE
MEET ERIE COUNTY EXECUTIVE BRENTON DAVIS: VISION OF YEAR ONE, TERM AHEAD
THE ERIE ART MUSEUM: MUSEUMS AS CONVENERS
THE ROLE OF THE HUMAN IMMUNE SYSTEM DURING COVID-19
EASTSIDE GRASSROOTS COALITION: IMPLEMENTATION OF A STRATEGIC PLAN FOR THE BUFFALO ROAD CORRIDOR