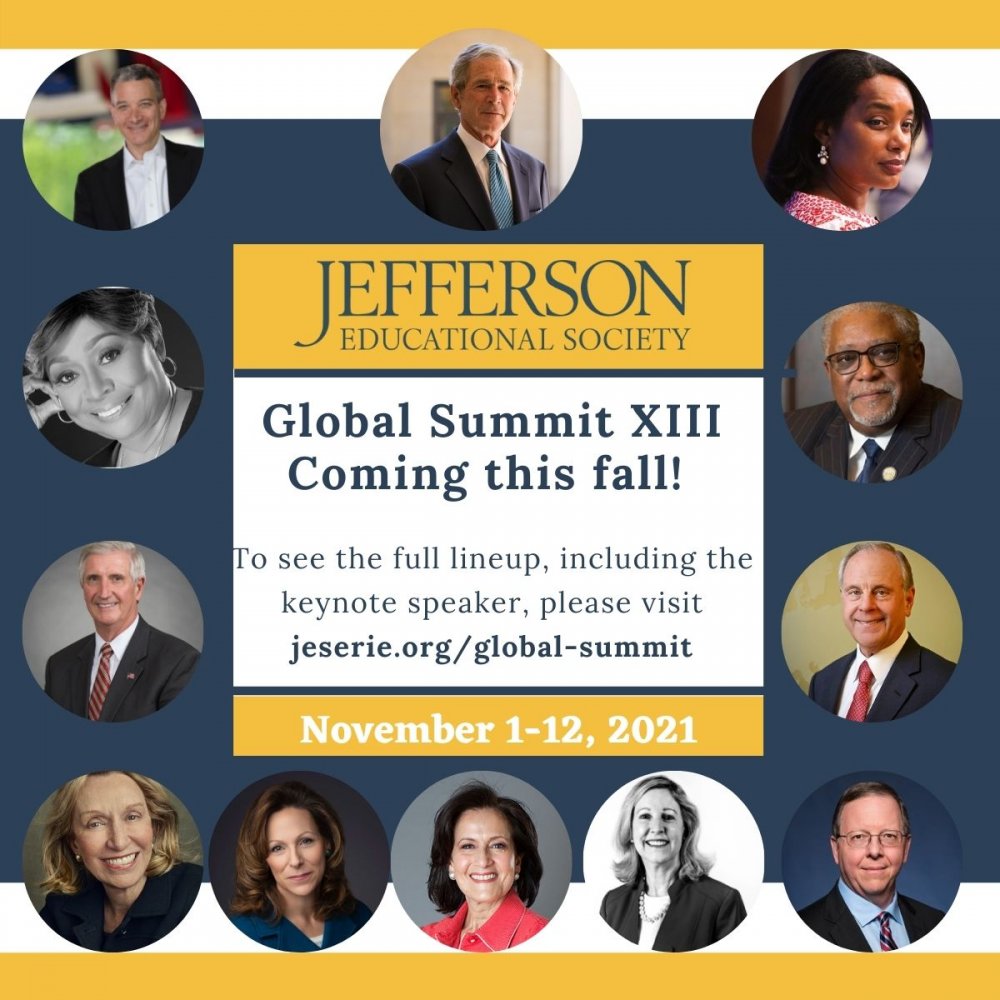 Secure your tickets for this fall's Jefferson Educational Society Global Summit XIII speaker series, including the Nov. 9 program featuring President George W. Bush at Erie's Bayfront Convention Center.
The 43rd President of the United States will headline the Jefferson Educational Society's Global Summit XIII speaker series. Gov. Tom Ridge, inaugural Secretary of Homeland Security, was instrumental in organizing President Bush's event for this Global Summit. Ridge, who served two terms as Governor of Pennsylvania, will serve as event host. Sen. Pat Toomey, R-Pa., will share remarks on politics and government before the keynote address by President George W. Bush and will also participate in this program through a Q&A session with Steve Scully.
In addition to President Bush, the in-person lineup includes labor and civil rights leaders Clayola Brown and DeWitt Walton (Monday, Nov. 1); Constitutional scholar and President of the National Constitution Center Jeffrey Rosen (Wednesday, Nov. 3); Brookings Institution policy expert Camille Busette (Thursday, Nov. 4); First Ladies panel in partnership with American University and the First Ladies Association of Research and Education featuring Stacy Cordery, Anita McBride, and Barbara Perry (Monday, Nov. 8); President Bush (Tuesday, Nov. 9); former White House Chiefs of Staff Andrew Card and Mack McLarty (Wednesday, Nov. 10); Pulitzer Prize-winning presidential historian Doris Kearns Goodwin; (Thursday, Nov. 11); and Hagen Dignitas Award winner Robert Pape, an international security expert (Friday, Nov. 12).
"We are so pleased that we can present this excellent summit for the people of the Erie region and our many supporters," said Jefferson President Dr. Ferki Ferati. "Hosting President Bush takes our programming to a new level, and we really look forward to his appearance."