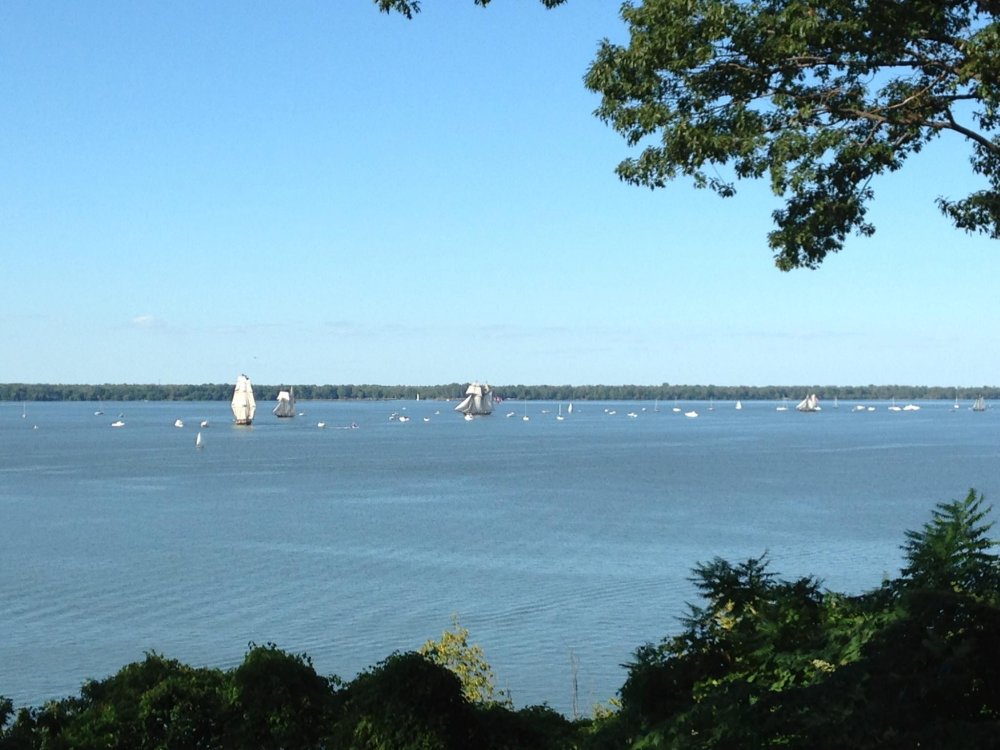 JES Summer Term 2016 Programming Begins July 12
Term features: a debate between nationally renowned politically analysts Howard Dean and Michael Steele, a comedic musical performance by Mark Russell, historic boat tours, a presentation from The Atlantic correspondent Deborah Fallows, and more
The Jefferson Educational Society continues its 2016 programming with the Summer Term 2016. The latest programming term features 12 events. The Spring Term 2016 runs from July 12 to Aug. 7.
On Tuesday, July 12, The JES will kick off its latest programmatic cycle with a free lecture at 7 p.m.: "Road to the White House: No Ordinary Time!" by Distinguished Professor of Public Policy at Gannon University David Kozak, Ph.D. Dr. Kozak presented "Road to the White House" during The Jefferson's Winter Term programming to an audience of more than 120.
The Jefferson welcomes attendees to arrive early to a 6 p.m. reception Tuesday, July 12 to meet The JES team, to learn more about the Summer Term 2016 programming, and to enjoy light refreshments.
Continuing its Distinguished Visiting Speakers Series, The Jefferson Educational Society is offering three DVS events during The Summer Term 2016.
The Jefferson will host a debate between Howard Dean and Michael Steele in advance of both the Republican and Democratic National Conventions on Friday, July 15, at 7:30 p.m. The event will be held at Northwest Pennsylvania Collegiate Academy, located at 2825 State Street, Erie, Pa. 16508. The debate will be moderated by C-SPAN Senior Executive Producer and Political Editor – and Erie, Pa. native – Steve Scully.
Dean served six terms as Governor of Vermont from 1991 to 2003 and served as chairman of the Democratic National Committee from 2005 to 2009. Steele was the first African-American chairperson of the Republican National Committee (2009 to 2011) and was the seventh Lieutenant Governor of Maryland from 2003 to 2007. Both are political analysts for MSNBC and have been heavily courted by media outlets during this current presidential election cycle.
On Monday, July 18, The Jefferson will welcome Deborah Fallows, Ph.D., to Erie to speak about the critical – and evolving – role that public libraries play in the civic, educational, technological, and economic lives of cities and regions. A regular correspondent for The Atlantic, Dr. Fallows – with her husband James Fallows, also a renowned writer – has traveled nearly 60,000 miles in the last three years, visiting towns and cities to study their development in the 21st century. In addition to writing for The Atlantic, Fallows contributes to National Geographic, Slate, The New York Times, The LA Times, and The Washington Post.
Back for a third summer, political satirist Mark Russell will perform at The Jefferson on Sunday, Aug. 7, closing out the Summer Term 2016. Known for skewering Democrats and Republicans alike, Russell's unique brand of comedy earned him the Mark Twain Award for political comedy and has made him a popular favorite on PBS.
Long before Jon Stewart and Steven Colbert, there was Mark Russell, daring to joke and sing of the often absurd political process. When Russell came to Erie in 2014 and 2015, tickets for both events sold out.
Taking programming offsite, The Jefferson is offering a special program: "The Rise and Fall of the Erie Extension Canal: A Narrated Boat Tour." Guided by historians and co-authors of Fortune and Fury, Jerry Skrypzak and David Frew, the tour will explain the canal from the essential vantage point of Presque Isle Bay, creating a contextual view of the canal and the ways in which it shaped Erie in the 19th century.
Tours will be held from 4 to 5:30 p.m. and 6 to 7:30 p.m. Thursday, Aug. 4. Each tour is limited to 30 attendees, and tickets are being sold on a first-come, first-served basis.
Other lecture topics include:
- Wednesday, July 20: a historical review of tall ships in advance of this summer's tall ships event in Erie, led by Flagship Niagara League Executive Director Shawn Waskiewicz, M.S.;
- Thursday, July 21: an examination of the evolution of downtown Erie told through historic photographs, led by retired lieutenant of the City of Erie Bureau of Police Jerry Skrypzak;
- Monday, July 25: a discussion of the remarkable life of Jacqueline Kennedy Onassis, led by Corrine Egan, former Executive Director for NW PA Labor Management Council;
- Wednesday, July 27: a discussion of the history of baseball and its cultural struggle to remain America's pastime, led by author of Willie Stargell: A Life in Baseball Frank Garland, M.S.,who directs the Journalism Communication Program at Gannon University;
- Thursday, July 28: an analysis of Charles Williamson, Erie's last Republican Mayor, led by Jefferson Educational Society President and Founder William P. Garvey, Ph.D.;
- Tuesday, Aug. 2: a Brock Institution for Mega Issues Edcuation presentation on "America's Distorted Mission," led by Brock Institution Founder Rev. Charles Brock, M.Litt.
- Wednesday, Aug. 3: an assessment of the role of Liberal Arts Education in the 21st Century, led by Mercyhurst University President Michael T. Victor, J.D., LL.D.
Those seeking more information, including how to register in advance for events or become a member of The Jefferson Educational Society, should visit www.JESErie.org or call The Jefferson at 814.459.8000.