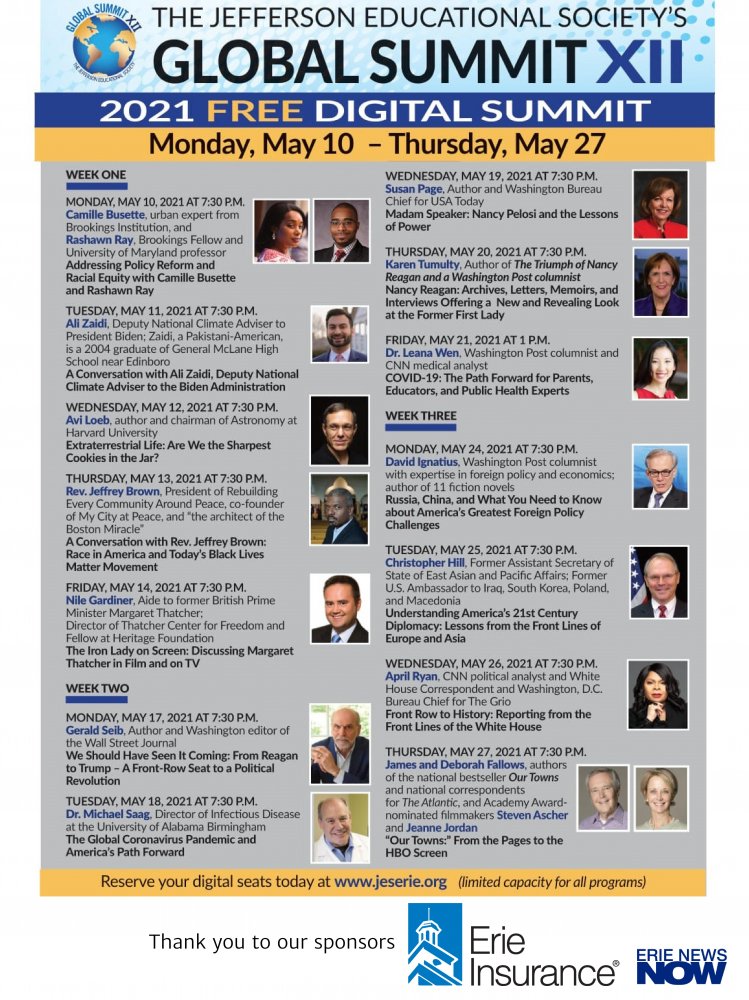 The Jefferson Educational Society will double up on its signature Global Summit speaker series this year.
The Jefferson will host Global Summit XII – a digital speaker series over a three-week period from May 10 to May 27 – featuring prominent speakers such as pandemic experts Dr. Leana Wen and Dr. Michael Saag, America's top astronomer Avi Loeb, CNN Political Analyst April Ryan, and authors and media experts David Ignatius, Susan Page, Karen Tumulty, James Fallows, and Deborah Fallows.
The free May summit will also feature conservative scholar Nile Gardiner; urban experts Camille Busette, Rashawn Ray, and Jeffrey Brown; first deputy White House National Climate Adviser to President Biden Ali Zaidi; Christopher Hill, former U.S. Ambassador to Iraq, South Korea, Poland, and Macedonia; and Gerald Seib, the Wall Street Journal's Washington executive editor and author of "We should have seen it coming: From Reagan to Trump – a front-row seat to a political revolution."
The second summit, Global Summit XIII, will be an in-person series of events that was originally scheduled for fall 2020. It is currently being rescheduled to late October and November 2021. Details will be announced soon. Global Summit Chairman Steve Scully is working with the Jefferson team on preparations for both summits. "We remain grateful for the tireless work of our Global Summit chairman, Mr. Steve Scully, who's helped us plan both 2021 Summits", concludes Dr. Ferati.
"We are so pleased that we can present two summits for our members and supporters this year, but most of all for the people of the Erie region," Dr. Ferati said. "This is a chance for all of us to hear from some of the greatest thinkers, writers, and presenters in the world, and to show them our community's many assets and challenges."
Global Summit XII events in May will be hosted through Zoom.
Week One of the May lineup features Camille Busette and Rashawn Ray (May 10); President Biden adviser Ali Zaidi (May 11); Avi Loeb (May 12); Rev. Jeffrey Brown (May 13); and Nile Gardiner (May 14). Week Two leads off with Gerald Seib (May 17), followed by Dr. Michael Saag (May 18); Susan Page (May 19); Karen Tumulty (May 20); and Dr. Leana Wen (May 21). Week Three features David Ignatius (May 24); former Assistant Secretary of State Christopher Hill (May 25); CNN Political Analyst April Ryan (May 26); and writer-authors James Fallows and Deborah Fallows with filmmakers Steven Ascher and Jeanne Jordan (May 27). All programs begin at 7:30 p.m., except for Dr. Leana Wen, whose program begins at 1 p.m.