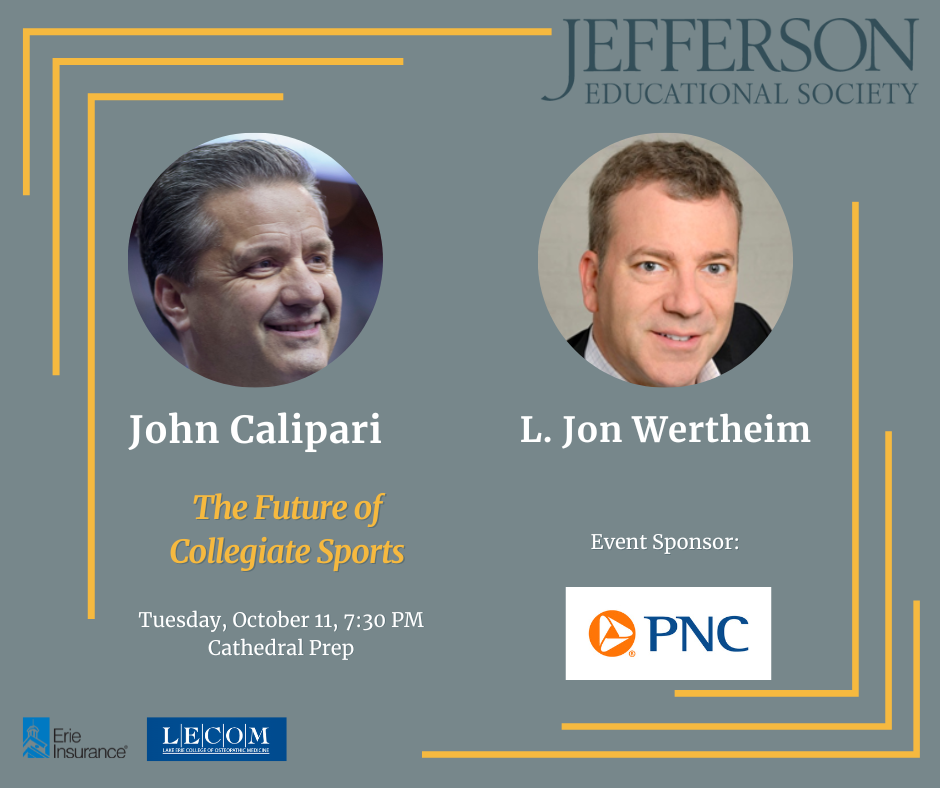 MEDIA RELEASE:
Coach John Calipari, Sports Illustrated's Jon Wertheim to Kick Off Jefferson Global Summit 2022 on Tuesday
Erie, Pennsylvania (October 7) – Nationally acclaimed University of Kentucky men's basketball coach John Calipari and Sports Illustrated Executive Editor Jon Wertheim will kick off the Jefferson Educational Society's Global Summit 2022 speaker series on Tuesday night, Oct. 11. Tuesday's event will start at 7:30 p.m. at the Cathedral Prep Auditorium, 225 W. Ninth St. Admission is $25 and free to all students who pre-register on the Jefferson website, jeserie.org, or call (814) 459-8000. There will be no same-day sales. Calipari and Wertheim will present "The Future of Collegiate Sports," discussing how the new era of NIL – Name, Image, and Likeness – has changed the future of college sports, in addition to other driving factors affecting today's student-athletes, college coaches, and universities.
"We are excited to welcome both Coach Calipari and Mr. Wertheim to Erie to be a part of this special Global Summit," said JES President Dr. Ferki Ferati. "We are thrilled to be adding this event to an already dynamic speaker lineup for this year's summit."
Global Summit 2022 features 15 programs and 19 speakers over a two-month period between early October and early December. Calipari, a three-time coach of the year who was inducted into the Basketball Hall of Fame in 2015, will join writer Wertheim, who is also a frequent contributor to CBS' "60 Minutes" program.
Other Summit presenters are political strategist Karl Rove; digital expert Elizabeth Strickler; Brookings Institution Senior Fellow Rashawn Ray; and immigration specialist Anahita Panahi in October; humorist Tom Bodett; a panel with community schools expert José Muñoz; foreign policy expert Fiona Hill; conservative writer and author Jay Cost; director of the Michigan Economic Council and Brookings Fellow John C. Austin; and acclaimed authors and veteran journalists James and Deborah Fallows in November; and CBS News Chief Political Analyst John Dickerson; Bloomberg Opinion Columnist Al Hunt and American Broadcast Journalist Judy Woodruff; and map making expert Allen Carroll in December.
In addition, Global Summit Chairman Steve Scully will appear at several events. The Global Summit is hosted each year by the Jefferson in cooperation with a number of major sponsors, including Erie Insurance, Lake Erie College of Osteopathic Medicine, PNC Bank, and Gannon University.
Tickets for all events are on sale now through the Jefferson's website, www.JESerie.org, or by calling 814.459.8000. Admission starts at $25 (early bird through Oct. 16, $35 afterward) for all events, and, as in previous years, all students will be admitted free with pre-registration through the JES.
For more information, please contact:
Angela Beaumont
Program Director
Jefferson Educational Society
814.459.8000
The Jefferson Educational Society of Erie is a nonprofit institution founded to promote civic enlightenment and community progress for the Erie region through study, research, and discussion.
Global Summit 2022 Lineup
-- John Calipari and Jon Wertheim Tues., Oct. 11 (Prep auditorium, 7:30 p.m.)
-- Karl Rove Sun., Oct. 23 (Prep Auditorium, 7:30 p.m.)
-- Elizabeth Strickler Tues., Oct. 25 (Jefferson at 3207 State, 7:30 p.m.)
-- Rashawn Ray Wed., Oct. 26 (Gannon Yehl Room at Waldron Campus Center, 7:30 p.m.)
-- Anahita Panahi Thu., Oct. 27 (Yehl at Waldron, 7:30 p.m.)
-- Tom Bodett Wed., Nov. 2 (Jefferson, 7:30 p.m.)
-- Jose Munoz Thu., Nov. 3 (Jefferson, 7:30 p.m.)
-- Fiona Hill Fri., Nov. 4 (Gannon Highmark Events Center, 7 p.m.)
-- Jay Cost Mon., Nov. 7 (Jefferson, 7:30 p.m.)
-- John C. Austin Wed., Nov. 9 (Yehl at Gannon's Waldron, 7:30 p.m.)
-- Jim and Deborah Fallows Thu., Nov. 10 (Yehl at Waldron, 7:30 p.m.)
-- Charles Brock Fri., Nov. 11, (Jefferson, 7:30 p.m.)
-- John Dickerson Sun., Dec. 11 (Yehl at Waldron, 7:30 p.m.)
-- Al Hunt and Judy Woodruff Mon., Dec. 12 (Yehl at Waldron, 7:30 p.m.)
-- Allen Carroll Tues., Dec. 13 (Jefferson, 7:30 p.m.)