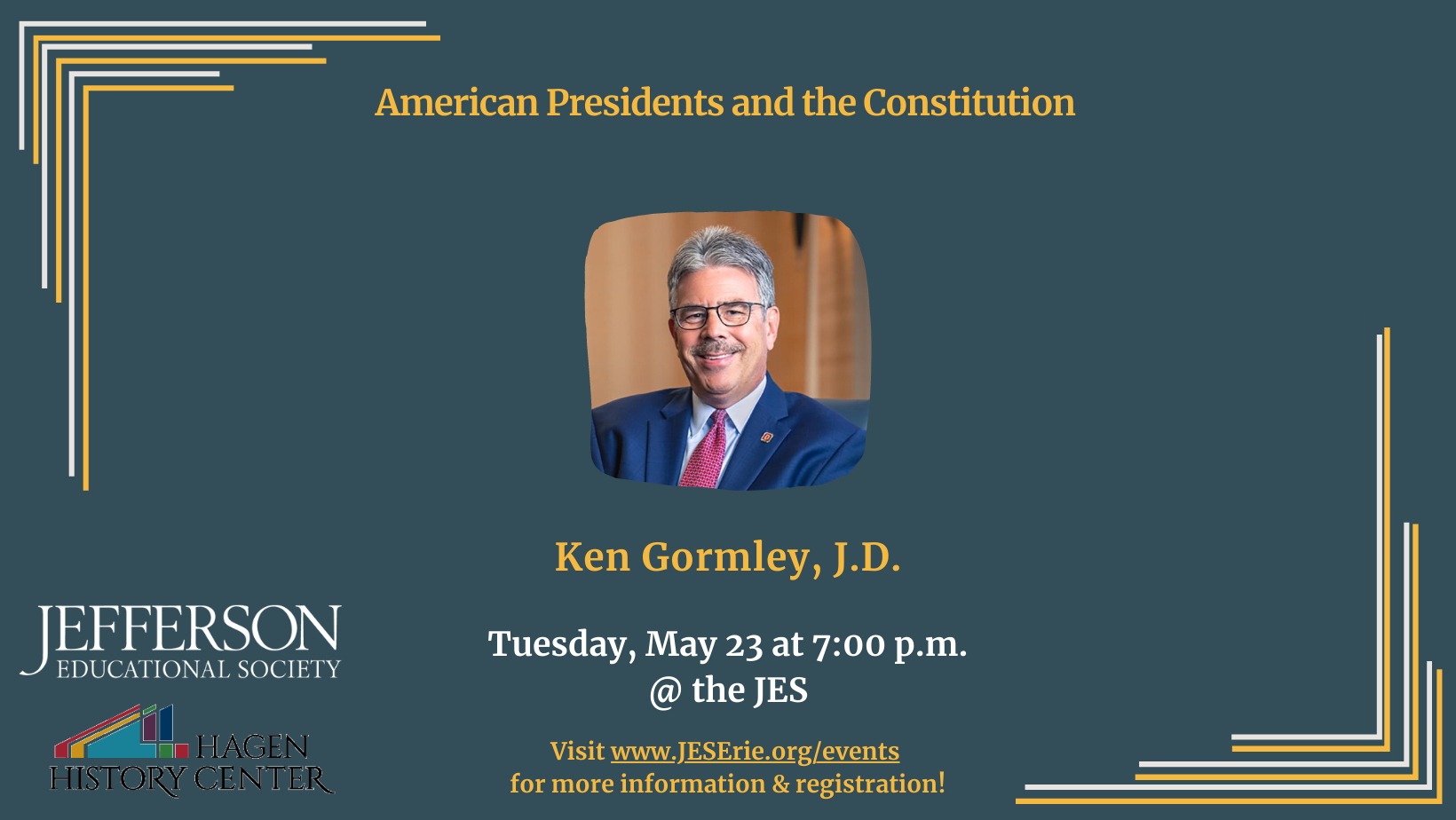 FOR IMMEDIATE RELEASE
Author, Academic Gormley in Spotlight at History Center-Jefferson Event on May 23
Erie, Pennsylvania (May 8, 2023) – Ken Gormley, a nationally acclaimed constitutional law expert and president of Duquesne University, is headed to Erie as part of a new lecture series co-sponsored by the Hagen History Center and the Jefferson Educational Society.
Gormley, an award-winning writer and author, will speak at 7 p.m. on Tuesday, May 23 at the Jefferson Educational Society, 3207 State St. The event is free and open to the public. He will discuss American presidents as they confronted constitutional crises and scandal.
Gormley's work as a constitutional scholar has brought him into the national spotlight for decades and he is widely known for writing the authorized biography of Watergate prosecutor Archibald Cox years after Gormley served as Cox's teaching assistant at Harvard Law School.
"We are so pleased to welcome President Gormley to Erie," noted Hagen History Center Executive Director Caleb Pifer. "He is a brilliant constitutional expert and a gifted speaker."
Added Jefferson President Ferki Ferati: "He is one of America's greatest legal minds and will provide great insight to the American presidency. The Hagen and Jefferson audiences have a real treat awaiting them."
For more information about the program or to make reservations, visit the Jefferson website at www.jeserie.org or call 814.459.8000.
Gormley became president of Duquesne University in 2016 following seven years as dean of Duquesne University School of Law. He joined the faculty there in 1994 after teaching at the University of Pittsburgh and serving in private practice.
His book on Cox was published in 1997 – "Archibald Cox: Conscience of a Nation," which was awarded the 1999 Bruce K. Gould Book Award for an outstanding publication relating to the law. His 2010 book, "The Death of American Virtue: Clinton vs. Starr," was a New York Times bestseller. He also garnered acclaim for his 2016 book, "The Presidents and the Constitution: A Living History," and a two-volume version of the book in 2022 that added a chapter on former President Donald Trump.
In 2021, Gormley's first novel, "The Heiress of Pittsburgh," drew praise from authors Scott Turow and John Edgar Wideman.
Media coverage of the Gormley event is welcomed; Jefferson and Hagen History Center spokespersons and the presenter will be available for comment at the event.
For comments in advance, please contact:
Angela Beaumont, Director of Programming
Jefferson Educational Society
814.459.8000
Pam Parker, Project Manager
Hagen History Center