Gannon University, Yehl Ballroom, Waldron Campus Center, 124 W. Seventh Street
Professor / Instructor / Speaker: Steve Scully
While Who frontman Roger Daltrey famously sang "meet the new boss, same as the old boss" in the 1971 classic "Won't Get Fooled Again," it's safe to say that from politics to leadership styles and everything in between, things have changed throughout the years in the Oval Office. So who better to bring perspective to the national news media scene and coverage of the White House throughout the decades than award-winning veterans Bill Plante, Ann Compton, and Steve Scully?
Plante, 80, a retired senior White House correspondent for CBS News, also reported regularly for CBS Evening News and CBS This Morning during his 52 years at CBS. In addition to covering seven presidents, Plante covered the 1965 civil rights marches, the Vietnam War, and the fall of Saigon. A graduate of Loyola University, he also attended Columbia University. Plante, who grew up in Chicago, is married to television producer Robin Smith. He has two sons, Michael and Dan, from a previous marriage, and four other adopted children.
Ann Compton, 71, was an award-winning journalist at ABC News during her trailblazing 41-year career. In 1974 she became the first female to cover the White House for a network news organization and has reported on every president since Gerald Ford.
A Chicago native, Compton was raised in Winnetka, Ill., and is married to Dr. William Hughes, a Washington, D.C., physician. They are the parents of three sons and a daughter. Despite her many achievements, Compton said that her most valued award is a golden statuette from the National Mothers' Day Committee naming her a Mother of the Year in 1988.
Scully, 58, born and raised in Erie, is the political editor and host of C-SPAN's popular daily show, Washington Journal. In addition to his extensive experience in journalism, Scully interned for U.S. Senator Joe Biden and served as staff assistant in Sen. Edward Kennedy's media affairs office. He earned his Master's degree in Journalism at Northwestern University's Medill School of Journalism. Steve and his wife, Katie, have four children, Mary Cate, Danny, Cristen, and Natalie Cathleen.
Event sponsored by: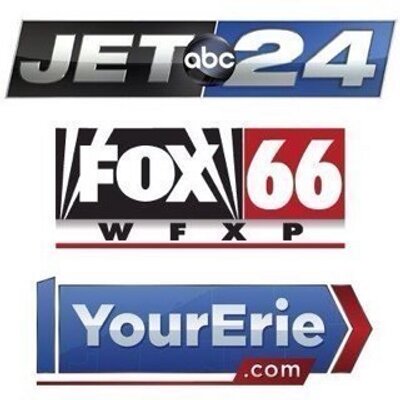 Valet parking will be available at Gannon arches on West Seventh Street.