Erie's Entrepreneurial Ecosystem - And the Gaps That Need to Be Filled
Free Lecture - Monday, July 23rd, 2018, 7:00 PM - 8:30 PM
As an era of employment ending in a 'gold watch' quickly fades into memory, a culture of entrepreneurism is taking its place. However, there's a danger lurking amongst all that promise of opportunity and riches. In order to build a thriving entrepreneurial ecosystem in Erie, there are 6 gaps that need to be filled. This talk will outline those gaps and what needs to be done to blaze a trail to the future.
Class Instructor: Brian Slawin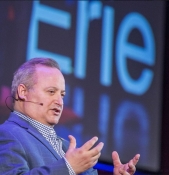 Brian Slawin, B.S., serves as the Portfolio Manager and Director for the Ben Franklin Technology Partners. In the 2-½ years that Brian Slawin has lived in Erie, he's realized several things: 1) It's going to take a lot more than almost 200 inches of snow to keep us down and much like when spring finally arrives, 2) the people of Erie are ready to move towards the next opportunities ahead. In his current role, Brian and his colleagues find, mentor and invest in the technology startups and small manufacturers that will create thousands of jobs for Erie's future. He attended Penn State - University Park and graduated from Parks College of Saint Louis University earning a BS in aviation science.