The Red and the Blue: Which Americans Vote for Which Party and Why?
Lecture - Wednesday, October 11th, 2017, 7:00 PM - 8:30 PM
What are the origins of partisan divisions in the United States? Why have Americans divided by party throughout history? And how has that led to Americans continuing to be divided today? The lecture will include a discussion of the concept of partisan realignment and how partisan preferences have changed among social groups in American history, including those based on region, race, ethnicity, religion, economic class, educational level, age, and gender.
Class Instructor: Robert Speel, Ph.D.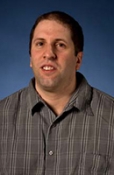 Dr. Speel is an associate professor of political science at Penn State Erie, the Behrend College. He earned his Ph.D. from Cornell University and his B.A. from The University of Pennsylvania. His teaching and research interests include most aspects of American politics, including elections and voting behavior, state and urban politics, Congress and the Presidency, and public policy, as well as ethnic and racial politics and Canadian politics.