Taps: 24 Notes of History and Erie County's Oliver Norton
Luncheon - Wednesday, April 18th, 2018, 11:30 AM - 1:30 PM
On a sultry July evening in 1862, a battered Union army lay in camp along the James River, downstream from Richmond, after the failed attempt to capture the Confederate capital. General Daniel Butterfield called in his young bugler, Oliver Norton, from Erie's 83rd Pennsylvania regiment. That night, they created a new "Lights Out" for Butterfield's brigade. By the next morning, dozens of other buglers from nearby units flocked to see Norton to get copies of the new tune. The iconic TAPS was born. Now, TAPS is the most famous bugle call in American history, being played at military funerals across the country. In later years, Norton would become a multimillionaire industrialist, summered at the Chautauqua Institution, and his widow left a legacy to her husband by funding Chautauqua's opera center: Norton Hall.
Class Instructor: George Deutsch, B.A.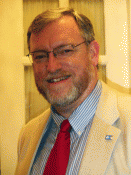 Historian and author George Deutsch has been involved in this region's history for over 35 years, especially relating to the Civil War and the War of 1812. He is the newly appointed Executive Director of the Historical Society of Erie County, returning to Erie in June 2016. He has published several articles on the 83rd Pennsylvania Volunteer Infantry and Commodore Oliver H. Perry's Flagship Niagara. Recently, he completed work on the map/supplement for the Civil War issue of National Geographic magazine. Deutsch is a leader in historical preservation and multiple public history projects, co-founding the Flagship Niagara League in 1980 and serving for many years on its Board of Trustees. He also spent several years on the Erie County (PA) Historical Society Board and co-founded both the Erie Civil War Roundtable and the Erie County Civil War Consortium, a non-profit educational organization. Deutsch helped to lead the efforts to restore and preserve Erie County's Civil War monument, the Erie related monuments on the Gettysburg battlefield and to conserve the Civil War battle flags now in the Heritage Room at the Blasco Library. He annually teaches history courses at the Chautauqua Institution in New York, is a regular lecturer for the Jefferson Educational Society in Erie and has led dozens of battlefield tours for roundtable and university groups. He has been honored twice by the Pennsylvania Historical and Museum Commission and received the Local History Award in 2003 from the Erie County Historical Society. Deutsch has a degree in history from Mercyhurst University in Erie and was also educated at Georgetown University's School of Foreign Service. Currently he is writing a new book on the famous 83rd Pennsylvania Infantry, focusing on the untold history of its last year in the Civil War.
The Erie County Historical Society opened its new, major exhibit titled "Sacrifice, Valor and Grit: Erie County in the Civil War" on January 7, 2017. Deutsch curated hundreds of artifacts to produce the largest collection of Erie County related Civil War items in any one place since the veteran's posts closed nearly 100 years ago.