Remarkable Women: Bette Davis
Lecture - Wednesday, February 14th, 2018, 4:00 PM - 5:30 PM
A strong-willed, independent woman with heavy-cast eyes, clipped New England diction, and distinctive mannerisms, Bette Davis left an indelible - and often parodied - mark on cinema history as one of Hollywood's greatest actresses. Over the course of her sixty year career, Davis made some 100 films, for which she received 10 Academy Award nominations, and twice won the Best Actress trophy. But her sometimes over-the-top affectations, short temper, and noted feuds with Joan Crawford and Warner Brothers studio, hindered her career despite the enormity of her talents.
Class Instructor: Corrine Egan, B.A.
JES Staff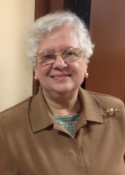 Corrine Halperin Egan has contributed to the Jefferson Educational Society since April of 2009. Presently, she runs a Great Books discussion group each semester for the Jefferson and delivers four lectures a year on Remarkable American Women.
Corrine was semi-retired, working as a management consultant and coordinator for the Global Issues Forum at Mercyhurst, when Dr. William P. Garvey approached her and asked her to come to work at the Jefferson. Prior to her 'retirement', she served as Executive Director of the NWPA Area Labor Management Council. Other positions have included Community Education Coordinator at Mercyhurst, Director of the Erie Branch of the American Cancer Society, Executive Director of the YWCA. She was a founder and Executive Director of COVE, Council on Volunteers for Erie County.