Great Books: Standing Down – From Warrior to Civilian
Course - Tuesdays, January 24th, 2017 through March 21st, 2017, 4:00 PM - 5:30 PM
The Great Books Discussion group continues with short readings of fiction, nonfiction, poetry, essays, and memoirs. Authors include Ernest Hemingway, James Agee, Margaret Atwood, Ernie Pyle, Frank O'Conner and Eric Sevareid and Tim O'Brien. The selections speak to past experiences, concerns, and aspirations of those who have served in the military and made the often-difficult transition back into civilian life as well as those left behind on the home front.
Class Instructor: Corrine Egan, B.A.
JES Staff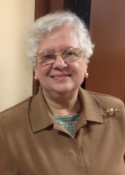 Corrine Halperin Egan has contributed to the Jefferson Educational Society since April of 2009. Presently, she runs a Great Books discussion group each semester for the Jefferson and delivers four lectures a year on Remarkable American Women.
Corrine was semi-retired, working as a management consultant and coordinator for the Global Issues Forum at Mercyhurst, when Dr. William P. Garvey approached her and asked her to come to work at the Jefferson. Prior to her 'retirement', she served as Executive Director of the NWPA Area Labor Management Council. Other positions have included Community Education Coordinator at Mercyhurst, Director of the Erie Branch of the American Cancer Society, Executive Director of the YWCA. She was a founder and Executive Director of COVE, Council on Volunteers for Erie County.