Great Books - Imperfect Ideal: Utopian and Dystopian Visions
Course - Tuesdays, April 10th, 2018 through May 22nd, 2018, 4:00 PM - 5:30 PM
This term's eight sessions will feature selections from Imperfect Ideal: Utopian and Dystopian Visions. These readings illustrate the best and worst of what can happen when we attempt to mold the complex communities in which we live into our vision of a perfect state. These sessions will challenge readers to question how society should be structured and governed, as well as consider what kinds of communities are most conducive to human fulfillment, both privately and in the civic arena. Authors featured include Aristotle, Saint Augustine, Theodor Herzl, Oscar Wilde and Vladimir Lenin and others.
Class Instructor: Corrine Egan, B.A.
JES Staff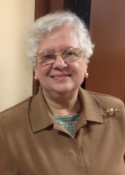 Corrine Halperin Egan has contributed to the Jefferson Educational Society since April of 2009. Presently, she runs a Great Books discussion group each semester for the Jefferson and delivers four lectures a year on Remarkable American Women.
Corrine was semi-retired, working as a management consultant and coordinator for the Global Issues Forum at Mercyhurst, when Dr. William P. Garvey approached her and asked her to come to work at the Jefferson. Prior to her 'retirement', she served as Executive Director of the NWPA Area Labor Management Council. Other positions have included Community Education Coordinator at Mercyhurst, Director of the Erie Branch of the American Cancer Society, Executive Director of the YWCA. She was a founder and Executive Director of COVE, Council on Volunteers for Erie County.