Economic Cataracts: A Chronicle of Efforts to Remove the Obstacles of Urban Community Engagement and Economic Inclusion
Featured Speaker Lecture - Tuesday, May 23rd, 2017, 7:00 PM - 8:30 PM
"Approaches to development cannot be plucked from a hat, as each possess different assets, social capital, and requirements. While understanding the optional approaches to development that can be achieved, determining the correct one to apply to community development is the most difficult challenge and should consume the first steps," Mr. Love Jr. wrote in a recent op-ed, adding, "the Community must be a major player for its own self-help and determination." Mr. Love Jr. will discuss the self-help approach to community development while sharing his insight from the frontlines.
Class Instructor: Preston Love, Jr.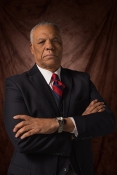 A former Nebraska Cornhusker football player (recent inductee: Nebraska Black Sports Hall of Fame), IBM pioneer marketing executive, micro-computer historic innovator (Opened Atlanta's first retail computer store, 1980), groundbreaking political mogul (organized and ran Jesse Jackson's campaign for President 1984), gospel soloist, playwright (wrote and performs as Adam Clayton Powell, a one-man performance), stage performer, newspaper columnist (Omaha Star column Black Votes Matter), lecturer, and University of Nebraska Omaha Adjunct Professor (teaches black politics and political science), Mr. Love Jr. is the author of Economic Cataracts. He is also the originator and force behind the Black Votes Matter initiative.