Civility in Discourse: The Past, Present, and Future of Adult Civic Learning
Free Lecture - Wednesday, May 17th, 2017, 7:00 PM - 8:30 PM
In a world no longer easily defined by religion, occupation or geography, can cultural institutions bridge generational divides, such as those between digital immigrants and digital natives? How can "institutions," which by their very name are distrusted by the millennial generation, continue to be a driving force in shaping the cultural landscape in the age of continuous connection and partial attention? And, how can we embrace natural and unlikely partnerships alike to achieve relevance and vibrancy? Mr. Hill will discuss the roles that generational shifts in the use of leisure time and the unending evolution of technology play in the cultivation of intellectual curiosity and societal wellness.
Class Instructor: Michael Hill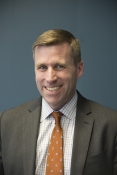 Mr. Hill was selected as the 18th president of Chautauqua Institution on Nov. 4, 2016. Hill is an experienced leader of arts, cultural and social service organizations, including Washington National Cathedral, The Washington Ballet and United Cerebral Palsy. Most recently, he was president and CEO of Youth For Understanding USA. He earned his bachelor's degree in journalism from St. Bonaventure University and his master's degree in arts and culture management from Saint Mary's University of Minnesota.