A Citizen's Action Guide to Blight
Free Lecture - Wednesday, April 19th, 2017, 7:00 PM - 8:30 PM
During the seven-month-long Civic Leadership Academy, the cohort applied the lessons learned from the program to a group-action project to address blight in Erie County. The group created a citizen's action guide to combating blight. This presentation will explore that data and copies of the report will be available to the public.
Class Instructor: Erie County Civic Leadership Academy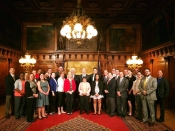 Launched in 2015, the Erie County Civic Leadership Academy prepares Erie professionals, ages 25 to 45, for meaningful, fulfilling, and impactful engagement in their community by providing a dynamic and unique environment that fosters teamwork, growth, and learning through a transformative experience for those seeking to be change-agents for their community.