1968: The Far Side of the Moon & the Birth of the Culture Wars
Lecture - Thursday, February 22nd, 2018, 7:00 PM - 8:30 PM
2018 marks the 50th Anniversary of 1968 – the cusp year of "The '60s": the Cultural Revolution whose repercussions redefined America reverberating down today. "The '60s" refers to that period between the Berkeley Free Speech Movement in 1964 to the last American helicopter leaving Saigon in 1975. 1968 was the hinge year, the year everything changed. From the Tet Offensive to President Johnson's resignation; from the assassinations of Martin Luther King and Robert F. Kennedy; from Miami and the Siege of Chicago;; from the women's march on Atlantic City to Apollo 8's Christmas Eve lunar orbit when humans first saw the far side of the moon and 'Earth-rise', 1968 changed everything. This presentation traces those events, their antecedents and their consequences.
Class Instructor: Andrew Roth, Ph.D.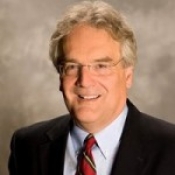 Andrew Roth, Ph.D.
In his 46 years in higher education, Dr. Roth's experience is global. At Mercyhurst University (nee College) he was a tenured faculty member; a coach – he founded the women's soccer team; and for more than twenty years, a senior administrator: Director of Admissions, VP for Enrollment, Vice-President of Academic Affairs and Dean of the College. In 2003 he assumed the presidency of Notre Dame College, from which he retired in June 2014 after receiving an Honorary Doctorate for his leadership and service and being named President-Emeritus. Currently, he is assisting colleges with strategic visioning and planning, enrollment management and conducting research on the future of higher education, particularly the impact of competitive intelligence, knowledge management and predictive analytics on institutional decision-making and strategic engagement.